Lotto Winners 16 March 2022
January-March 2022 Updates
Esports News from India!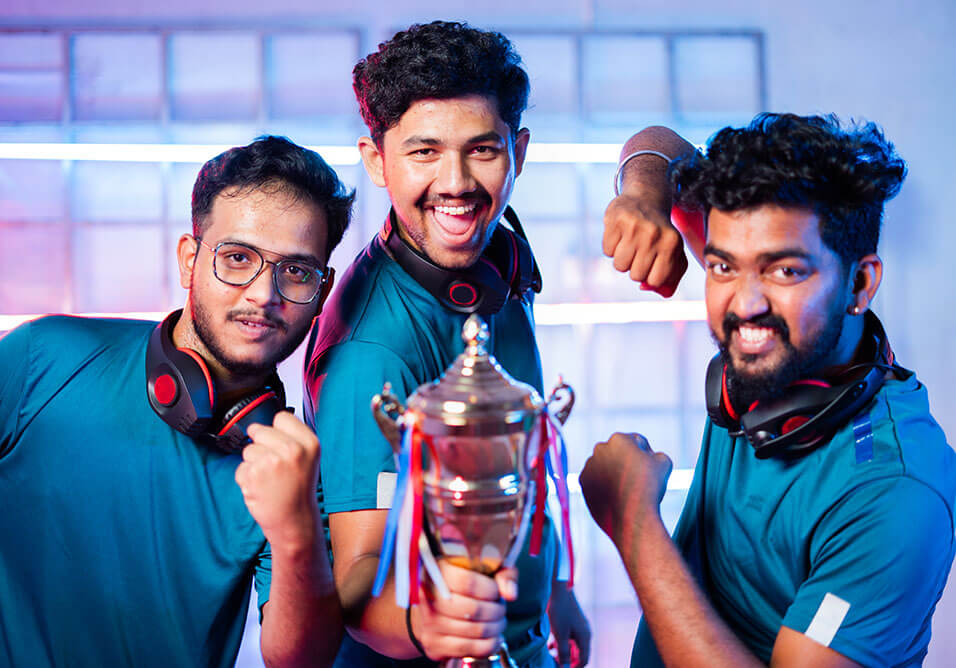 Table of contents:
The last two years have seen a huge growth in esports in India.
The lockdowns caused by the Covid-19 pandemic greatly contributed to the popularity of esports as millions of people began playing games on their mobile devices. The use of smartphones for egaming rose by 60% compared to pre-lockdown levels.
This has led to a growing industry for the development of mobile games by Indian developers, with 4% of mobile games on Google's Play Store being made by Indians.
There are now over 250 game developers in India, in comparison with just 25 a decade ago.
As we look forward to the rest of 2022, we take a look at some of the latest exciting news from the esports industry in India.
2021 YEAR IN REVIEW
Before we look at some of the big stories of 2022 so far, it's worth having a recap of some of the main stories from 2021.
One of the biggest stories took place in June 2021 with the launch of Battlegrounds Mobile India (BGMI).
BGMI is the rebranded version of PUBG (PlayerUnknown's Battlegrounds), which had been banned for 9 months following the China-India skirmishes, which began in May 2020. More than 100 Chinese apps, mostly made by Tencent and Netease, were banned by the Indian government, which claimed that the apps were "stealing and surreptitiously transmitting user data in an unauthorised manner to servers which have locations outside India".
India had been PUGB Mobile's largest market with 175 million downloads, accounting for 24% of global users. The launch event for BGMI reached 547,888 views.
In other news, the Skyesports Valorant League attained as many as 8 million viewers in 2021, reflecting an incredible 200% growth from 2020.
Another huge story was India's official entry into the international Valorant Conquerors Championship (VCC), which is the qualifying event for the Valorant Champions Tour APAC. The tournament offers a huge prize pool of ₹2.5 million and is one of the highest viewed esports events across South Asia, the 2021 final reached views as high as 52,484.
ESPORTS IN INDIA TO BECOME ₹1,100 CRORE INDUSTRY BY 2025
The Federation of Indian Chambers of Commerce & Industry (FICCI) and EY India reported that the esports industry in India was worth ₹300 crore in 2021, meanwhile the Federation of Electronic Sports Associations of India (FEAI) claims that the esports industry in India will grow to an industry worth ₹1,100 crore in the next three years.
The FEAI will launch a policy paper to outline the framework for development, including a roadmap for the formalisation of the esports sector. According to Vaibhav Dange, Founding Director of the FEAI, it is predicted that the growth of the esports ecosystem will be boosted by the popularity of cricket.
"Cricket presents a massive opportunity for growth of Esports in Commonwealth Nations. We are working closely with international bodies such as the British esports Association. The fillip that Prime Minister Narendra Modi has provided to the animation, visual effects, gaming and comics (AVGC) sector will start delivering results soon."
ROOTER ACQUIRES MEDIA RIGHTS FOR SKYESPORTS
Game streaming platform Rooter has acquired the rights for Indian esports and gaming company, Skyesports, which has hosted major esports tournaments, as a result, all of Skeesports' original competitions will be broadcasted exclusively on Rooter.
Tournaments are to be streamed in several languages including Hindi, English, Tamil, Bengali, Kannada, Malayalam and Telugu.
Dipesh Agarwal, Co-Founder and COO of Rooter explained the rational behind Rooter's acquisition of Skyesports' media rights;
"Skyesports is renowned for hosting some of the major esports tournaments in the country. Teaming up with a platform redefining Indian esports, this comes as a landmark deal for both entities. Rooter is the fastest growing gaming platform in India and we will help Skyesports reach millions of fans who will get the best esports content exclusively on Rooter. We also look forward to working with Shiva and the rest of the team to provide multiple engagement opportunities for fans with esports teams on Rooter's platform."
GRASSROOTS PLAYERS TO COMPETE AGAINST PROS
Event management company Ultimate Sports (UE) which runs the All India Esports League (AIEL) announced it will provide a platform for beginners to take on professionals.
The AIEL will be split into a Beginners Division and a Professional Division. Teams or players from the Beginners Division will be able to qualify for the Professional Division. The massive prize pool will be over ₹50 lakh and the AIEL will be available to view on YouTube on the UE's official channel.
Tarun Gupta, Founder of Ultimate Esports commented on Ultimate Sports' dedication to promoting esports at the grassroots level:
"All India Esports league is the flagship IP by Ultimate Esports. It is a milestone on our road map to take Indian esports to a more competitive platform. With AIEL, we want more people to connect to gaming and esports. This will help us bridge the gap between amateur and professional players. With our 2022 calendar, we are focusing equally on the players from the grassroots level of the esports ecosystem who have the potential to make a mark in the Esports industry."
PENTA ESPORTS PARTNERS WITH FEAI
One of India's leading Esports and gaming companies, Penta Esports, will be partnering with India's regulatory body for Esports, the Federation of Electronic Sports Associations India (FEAI).
The FEAI is focused on the development of Esports at the grassroots level with the support of the Government of India. The partnership between both organisations is an attempt to develop esports across India through improved structural development and the promotion of regional chapters.
Anurag Khurana, Founder & CEO of Penta Sports explained that there will be an emphasis on college and university level engagement along with national awareness campaigns, tournaments and leagues.
In turn, Vaibhav Dange, Founding Director of FEAI expressed his excitement at the partnership between Penta and the FEAI and explained the rationale behind the move;
"As the apex national body for esports in India, we seek to facilitate a policy-centred esports outlook that aims to address a strong talent development ecosystem that covers the spectrum of talent, businesses, job creation, education, and revenue generation for India with regional centres of excellence. The overall ecosystem has to be strengthened for it and we are excited about the potential of our association with Penta Esports in rapidly accelerating the growth of esports across the country."
LOOKING AHEAD: ASIAN GAMES 2022
The future of esports in India is looking bright.
One of the most important events of 2022 will be the inclusion of esports at the 2022 Asian Games to be held in Hangzhou, China, from September 10th to 25th.
This will be the first time that esports will be an official medal event at the Asian Games.
Indian mobile gaming team Godlike Esports is feeling confident about their chances of representing India at the tournament.
However, Chetan "Kroten" Chandgude, part owner and player at GodLike Esports expressed his concern at the dismissal of mobile games by some gamers as "not real games" and warned that Indians should not "disregard mobile gaming" otherwise, "other countries will overtake us and grow a lot in the sector". Although according to esports veteran Abhijit "Ghatak" Andhare, GodLike Esports coach, "the Indian competition level had risen drastically".
PUBG Mobile will be one of the eight games to be featured at the Asian Games. As it is still banned in India, Krafton, the South Korean company that develops and distributes the game, confirmed that Indian players could still qualify by playing BGMI, the Indian version of PUBG. The eight esports games to be featured as medal events at the 2022 Asian Games are:

PUGB Mobile
Dota 2
Hearthstone
League of Legends
FIFA
Street Fighter V
Area of Valor
Dream of the Three Kingdoms 2
BET ON ESPORTS FROM INDIA
2022 is shaping up to be perhaps the biggest ever year in the history of esports in India.

There's also great news for Indian esports fans who fancy a flutter as you can now bet on esports from India with Lotttoland.

Betting on esports online with Lottoland is easy and convenient. Furthermore, there is a special offer for new customers.

You can get your money back as a free bet if your first sports bet (including esports) is over ₹400.

There's never been a better time to bet on esports.

Let's hope the Indian gamers can do us proud at the Asian Games and hopefully they'll bring in some nice profits for the Indian punters who back them!
---