News & Stories 11 March 2019
You Too Can Win the Lotto
Read Success Stories of Lottoland Winners in the UK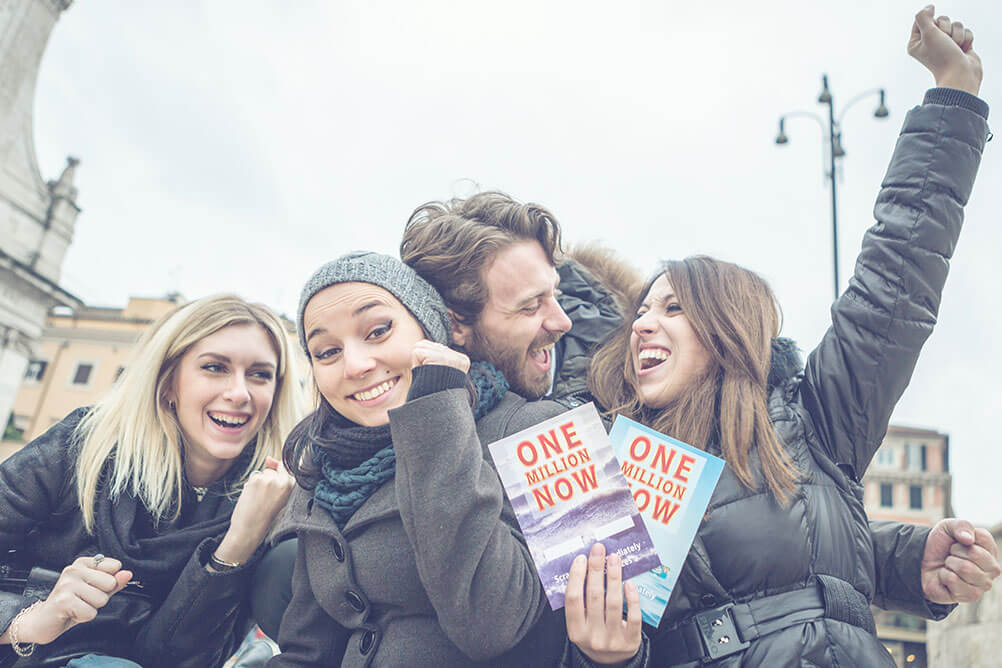 1. 79 Million Euros (INR 639 crore), Christina (Euro Jackpot)
With the selection of numbers suggested by her mum, Christina hit the jackpot of a whopping 79 Million Euros. Well, congratulations to Christina who not only won but also broke all the records by winning again with her second ticket. After having won the lottery, Christina, quit her job as an office cleaner to take a trip across the US.
2. 22.3 Million Euros (INR 180 crore 51 lakh), Anonymous (German Lotto)
In late April 2016, the stars favoured a 25-year old from Germany. The happy winner decided to remain anonymous when collecting his winnings. Though, he did share that his wife picked the lucky numbers that won him the lotto worth over 22 million Euros.
3. 14 Million Euros (INR 113 crore 32 lakh), Michael (German Lotto)
In February 2016, Michael, another lucky winner won the German Lotto. The modest family man decided to keep working and continue with his old lifestyle even after winning the big bucks.
4. 4 Million Euros (INR 32 crore 38 lakh), Anonymous (El Gordo)
El Gordo or the Spanish Christmas Lottery is one of the largest lotteries around the world - all thanks to the vast volumes of money that is paid out. Though the lottery has changed many lives in Spain, this year's El Gordo winner was announced on 22nd December 2018. The winner celebrated an early new year with his mega win and decided to remain anonymous.
5. 3.2 Million Euros (INR 25 crore 90 lakh), Mario (German Lotto)
Winning the jackpot makes a person rich. For Mario, an Italian, who won the German Lotto, the substantial win meant he could fulfill his dream and go back to his homeland with his family and live a luxurious life in the countryside.
6. 2.9 Million Euros (INR 23 crore 47 lakh), Mark Clark (Polish Lotto)
A 60p line on the Polish Lotto made Mark from Midland a millionaire overnight! The Novelty cheque was presented to him by none other than Chris Tarrant, host of the popular show, Who Wants to Be A Millionaire. This truck driver is all set to pursue his life goals and live a comfortable and cushy life.
7. 1.8 Million Euros (INR 14 crore 57 lakh), Nina (EuroJackpot)
Nina and her husband decided to play the Eurojackpot after they stopped playing the lottery for a few months. The couple took the birthday dates of all their family members, to strategically create a set of numbers that won them the lotto. With their winning money, they plan to explore the world!
8. 1.2 Million Euros (INR 9 crore 71 lakh), Matthias (Powerball)
In his quest to bet on the world-renowned Powerball, Matthias came to know about Lottoland. And there was no stopping him then, and there is no stopping him now. After the big win, Matthias is planning to buy himself a vacation home in Scandinavia where he spent most of his childhood vacations.
9. 1 Million Euros (INR 8 crore 9 lakh), Michael (Germany- Instant Millionaire)
This 23-year-old is by far the youngest millionaire from Lottoland who bagged the winning amount through betting on Powerball. Now he is planning to invest the money in his small business and a new sports car!
Lottoland: How Does It Work?
Lottoland is the platform for the generation-next. It is an online gambling platform introduced to the world in 2013. Headquartered in Gibraltar, it is the quickest, and the easiest way to place your bets on the outcomes of the official draws from across the world. Plus, the prizes you win are always in line with the prize money offered in the official draws. All you have to do is to create an account with Lottoland and start betting.
Transferring the Winning Amounts to You
Lottoland places your bets for you and makes sure your winnings are always transferred to your account. For smaller wins, Lottoland uses the funds created out of the sale of tickets. Whereas, for more significant gains, it uses the insurance which covers the eventualities such as mega million jackpots. Here, the ticket prices are used to refer to the premium of the insurance.
Lotteries You Can Play
Along with the leading lotteries from around the world such as Powerball, EuroMillions, EuroJackpot, and MegaMillions, Irish Lotto, Polish Lotto, and other lotteries from Europe, Australia and beyond; you can also play intriguing casino games, scratch cards, and instant-win games on the website.
Lottoland is a regulated and licensed platform which is possible because of transparency in its financial compliance.
How do you withdraw money from Lottoland?
Withdrawing your winnings from the Lottoland account is no rocket science. If you have previously registered you Bank Card with Lottoland and have used it to purchase a bet, you can add your win to that card. In case, you haven't registered your Bank Card previously; your winnings will reach your bank account via transfer of funds.
You can withdraw your winnings back to the registered Bank Card by signing into your account and choosing 'My Transactions' from the drop-down menu. Simply select the amount you wish to withdraw and then press the withdraw button.
By completing the Payout section in My Transactions, you can get the winnings in your Bank Account. The details of the Payout proceedings by Lottoland are always at your disposal, and you can view them anytime in 'My Transactions.'
You can also use your winnings to earn future lotto bets. Plus, you will have to do nothing about it. Lottoland automatically uses the Payable Balance in your Lottoland account to pay first. In case these are not sufficient, your Withdrawable Amount (Winnings) will be used.
Lottoland strives to ensure a quick and crisp procedure of withdrawal for your convenience.
Can I play Lottoland from India?
Yes! You can play all the games offered by Lottoland in India. As has been mentioned above, you can play to win some of the most significant world lottos. The user-friendly interface of the website offers some of the most popular casino games, instant-win games, and scratch cards which give you an opportunity to win attractive rewards every day.
Suppose, you want to play the Powerball. You have to know how to play Powerball from outside India and the steps you need to take when you win the Powerball lottery. Keep in mind, winning the lottery is an income, and in India, it will fall under the purview of the Income Tax Act, 1961.
To Sum Up
Lottoland is a secure, trusted and regulated platform on which you can place your bets. The site is coming to India soon and will give you the chance of winning the lotto, and change your life forever.
---