News & Stories 01 February 2022
A Guide to Online Cricket Betting
Cricket Betting Tips from Experts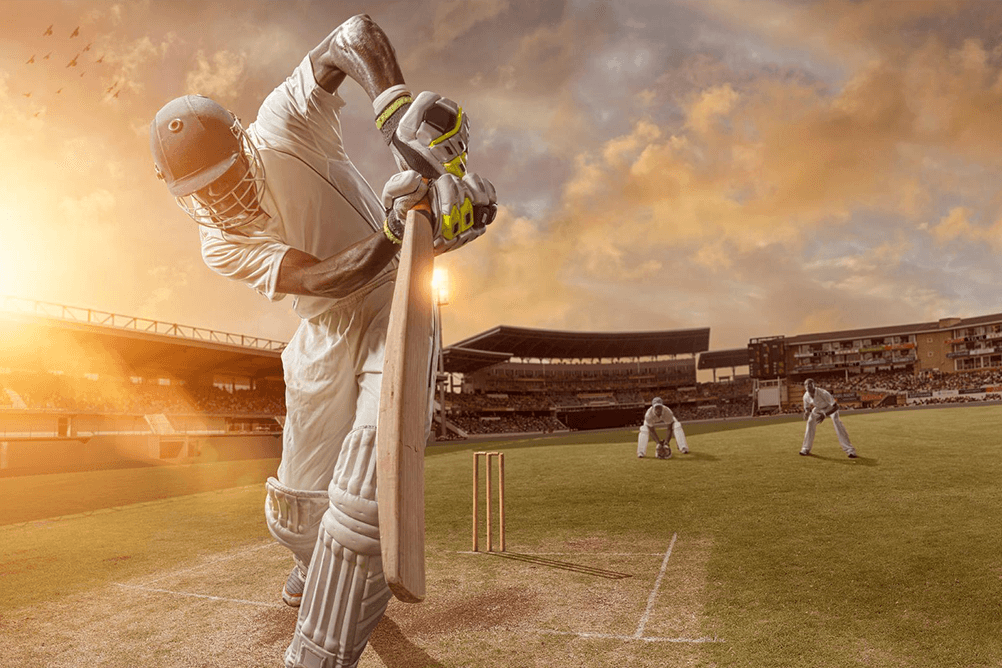 Table of contents:
ALL ABOUT CRICKET
Cricket is the second most popular sport in the world by fan base. Football (soccer) leads the pack with an estimated fan base of 3.5 billion, followed by cricket with 2.5 billion fans. The sheer numbers of cricket fans from the Indian subcontinent alone make up approximately 90% of worldwide fans.
The origins of cricket can be traced back to Medieval times, developing in the south and south-east of London. The first reference to the game of cricket (as "creckett") was recorded in 1597, in reference to the ownership of a plot of land where the game was played.
Cricket expanded across the British Empire, a legacy which is reflected in the popularity of the modern game across Commonwealth nations.
As unbelievable as it may seem, the first international cricket match (and the first international game of any modern sport), took place in 1844 and was contested between the United States and Canada (billed as "the British Empire's Canadian Province"). The match was played at St.George's Cricket Club in Manhattan, New York. Canada won by 23 runs.
It seems cricket betting was already popular by 1844 as an estimated $120,000 USD worth of bets were placed on the match. Adjusted to inflation, this amount would be the equivalent of approximately $1 million in 2022, or around ₹750 crore.
The first official international Test match took place in March 1877 when England took on Australia at the now iconic Melbourne Cricket Ground, the home team were the victors by 45 runs, although England won a second Test in April by 4 wickets.
Cricket is notorious for its long-lasting matches.
In the past, some Test matches had no time limit, known as 'Timeless Tests'. In 1939, a match between England and South Africa lasted an incredible 9 days, making it the longest ever cricket match. The match started on March 3rd and ended on the evening of March 14th as rain had stopped play on the 5th, 11th and 12th. The match was declared a draw with England needing only 42 more runs for victory. The match had to be stopped as the England team were due to catch the ship back home the next day.
Nowadays, Test cricket is limited to five days. There are various other forms of the game, such as T20, which typically lasts about three hours, meaning you don't have to wait a week to see if your match bet will make a return!
The first Cricket World Cup was held in England in 1975 and was won by the West Indies.
WHY BET ON CRICKET?
Due to live-streaming services, cricket is readily available to watch, especially the Indian Premier League (IPL), which is now available to live stream on YouTube.
The IPL is the world's biggest annual cricket tournament and the world's second most attended sports league in the world. The average viewership of the IPL is over 116 million unique viewers.
The IPL's brand value is over $6 billion USD (₹47,500 crore), providing a considerable contribution to India's economy.
The IPL has been a huge boost to the popularity of cricket. The matches are played in the Twenty20 (T20) format which adds to the excitement and fast-paced nature of the game. A real smash-a-thon. Add to this flashing lights, music and cheerleaders, and the party atmosphere is buzzing. Cricket whites are replaced with colourful uniforms and the red ball is swapped for a white one.

It's a great moment for cricket. The game is even increasing in popularity in the United States, which is now estimated to have about 30 million cricket fans. Of course, the majority of cricket fans in the US are South Asians. 2023 will be a huge year for cricket with the inaugural Major League Cricket season taking off in the US and India hosting the Cricket World Cup.
WHICH CRICKET GAMES TO BET ON
Before you start betting on cricket, you need to familiarise yourself with the different formats of the game which are governed by the International Cricket Council (ICC).
FORMATS OF CRICKET
FORMAT
NUMBER OF OVERS
TIME OF PLAY
TEST CRICKET
450
5 DAYS
ONE DAY CRICKET
50
9 HOURS
TWENTY20 (T20)
20
90 MINUTES
The traditional form of cricket, played over 5 days, with the potential for either team to win or for the match to finish in a draw.
The 1970's saw a revolution in cricket when this form of the game was developed. Played in one day, with 50 overs for each team.
Popularised in the early 2000's, this game can be played in one afternoon or evening, lasting just 20 overs per team.
TYPES OF CRICKET BETS
There are many different types of bets which you can place on cricket. A full list of the types of bets available can be found on Lottoland's online cricket betting site.
Five of the most popular types of cricket bets are the following:
Money Line (Match Winner)
Innings Runs
Highest Individual Score
Highest Opening Partnership
Top Batsman
Top Bowler
CRICKET BETTING STRATEGY
MONEY LINE
Simply predict the winner of the match. In limited overs matches there are just two possible outcomes, either side can win. In Test matches there is a third possible result of a draw. Betting on a series outcome is similar to above.
If betting on Test matches, it's worth considering that draws are becoming less likely due to ever increasing run-rates.
Inclement weather or pitch conditions are more likely to affect positive result nowadays.
INNINGS RUNS
An innings is a set period in a cricket match, during which one team is batting and the other is bowling. In test matches, each team typically bats for two innings but the number of runs scored and wickets taken can dictate that this is not always the case. In limited over matches such as T20 or One Day Cricket, each team is given just one innings during which to bat.
The Duckworth–Lewis–Stern method (DLS) is a mathematical formulation designed to calculate the target score (number of runs needed to win) for the team batting second in a limited overs cricket match interrupted by weather or other circumstances.
If DLS is called into play and the runs for one of the teams are being reduced, the market will be valid for settlement. In One Day matches, bets will be void if the intervention of rain or any other delay results in the number of overs being reduced by 5 or more from the originally scheduled, unless the market is already determined. For T20 matches, bets will be void if the intervention of rain or any other delay results in the number of overs being reduced by 3 or more from the originally scheduled and when bets were struck, unless the market is already determined.
HIGHEST INDIVIDUAL SCORE
Bet on leading run scorers and wick tackers in each innings and/or match.
The potential to be a highly profitable bet can come about when trends develop, such as leading run scorers batting inside the top 3 positions of a batting line-up in limited overs.
They face the most number of balls, and bat when opposition captains have to have the field up during a power-play.
HIGHEST OPENING PARTNERSHIP
Highest opening partnerships can also make for a very interesting market for punters.
It's not uncommon for certain batsmen to struggle against certain bowlers, therefore, researching into these trends can yield decent returns.
TOP BATSMAN
A popular player specific bet.
Select which player that you think will score the most goals during a match or series. This bet usually pays well as it is more difficult to predict than just picking which team will win.
TOP BOWLER
Another popular player specific bet.
Select the player that you believe will take the most wickets during a match or series. Again, if you predict correctly, you will receive a very decent payout.
CRICKET BETTING STRATEGY
No matter what type of format you're betting on, there are various ways to analyse an upcoming cricket match.
Developing a range of cricket betting strategies is key to finding value opportunities.
Here are five factors and top tips to consider when betting on cricket:
TEAM & INDIVIDUAL PLAYER FORM
As with any other sports, with cricket betting it is essential to carry out some research into both team and individual performance before betting.
There are many situations to consider, for example, does a certain player fair better on a particular ground? Some players could perform excellently at some grounds but terribly at others, or the same could go for a certain player having a history of not performing well against a particular team. Will the batsmen struggle against a particular bowling style?
How will a team fair if they lose the first match of a big series? Sometimes it proves very difficult for a team to pick themselves up and get on the upper hand, this can be down to psychology, especially if the momentum is with the home team.
WEATHER CONDITIONS
Cricket is one of the sports most affected by weather conditions.
When betting on cricket, it is essential to check the weather forecast over the duration of a match or series. Especially with regards to Test cricket.
A chance of a draw becomes much more likely in rainy conditions as the play is suspended. Although bear in mind that run-rates seem to be constantly increasing, which makes draws much less common than they previously were.
Over the course of a five day Test match, some rain may be expected but it is important to research the venue and how the weather tends to behave in that particular climate or time of year.
The sun sets earlier in certain countries, meaning it could be difficult for a team to make up for lost overs.
Also consider how players from temperate climates, such as England, may be affected by roasting hot sun in Australia or India. Of course, professional cricket players become accustomed to the change in weather but this can also be a factor.
Cloud cover can also assist swing and seam bowlers as batsmen may struggle under the darker skies.
PITCH CONDITIONS
As with the weather conditions, cricket matches can be much affected by the state that the pitch is in.
The soil and grass type can have an impact on certain wickets. Certain grounds can be naturally rather slow, which can assist batting, whether other grounds can assist fast bowlers, offering steep bounce and pace due to a hard pitch.
A dusty, unrolled pitch is perfect for spin bowlers, whilst a green pitch will benefit a fast bowler.
THE TOSS
A top cricket betting tip is to wait for the toss before placing any outright match winning bet. Many things can be controlled, but not the toss of a coin.
Having the chance to start the match how you choose can be a critical decision. If a captain is uncertain about the nature of the pitch or wants to play it safe, they will most likely opt to bat first.
Batting on a new pitch can be favourable as the pitch deteriorates after time. It also gives the chance for the batting team to set the score, dictating the course of the match, putting pressure on the opposing batsmen. Batting first is considered a good option if the opposing team has strong bowlers.
If a captain chooses to bat second, he must be confident that his team can chase any total. Batting second can sometimes be beneficial if the pitch does not deteriorate as the team can focus on limiting the opposition to a low score and do not have to worry about setting a high score themselves, although, they must bat well to successfully chase the target, of course.
Batting second can also be an advantage in One Day matches which last into the night. Dew can create a moist ball which can be difficult to swing and spin, creating opportunities for the batsmen to get good hits of badly directed deliveries.
In summary, captains and punters alike should look out for the following conditions when reading a pitch:
A green pitch will likely assist seam bowlers as there is more moisture in it, making batting hard, so it is better to bowl first.
A dry and dusty pitch will make batting more difficult as the match goes on due to deterioration, this assists the bowlers as the bounce of the ball becomes unpredictable. Better to bat first.
If there is a threat of dew as the game progresses, it would be beneficial to bowl first.
BETTING IN-PLAY
Five days is a long time for a team to concentrate and stay on form, many factors can influence the match, creating great opportunities for betting in-play. This is a great advantage of betting in-play with online cricket betting over other sports, especially betting on Test cricket.
Big odds can change over the course of a few overs, a side could go from being in a solid position and the favourite to win, to suddenly being in danger of losing.
A key betting strategy is to be watchful for a new ball to be introduced after 80 overs.
A new ball can cause the batsman problems as it has a thicker seam, increasing the chance to deviate, especially on a very flat pitch. Furthermore, the new ball flies off the bat at greater speed, reaching the boundary quicker.
AWhen it comes to T20 or One Day cricket, keep observant for when a captain is forced to select his lesser bowlers as runs could flow quickly, which would greatly impact the live cricket betting odds over the course of just an over or two.
ONLINE CRICKET BETTING AT LOTTOLAND
Cricket betting is a great way to become more knowledgeable about the wonderful sport of cricket. The more research you do to understand how different factors can affect a game, the more it will benefit you. You will also become more aware about which teams are currently in form, along with how different grounds can affect play.

There's plenty to take into account and it's truly a fascinating sport to bet on precisely because of all these different conditions.

Furthermore, there is a great contrast between the different forms of the game, from the fast-paced T-20 to the endurance of Test cricket.
It would be sound advice to start off by wagering smaller amounts and build up as you go along, becoming more knowledgeable and experienced.
Start off with some of the more basic bets as we described above then as you become more comfortable, you can progress into the more complex bets described in Lottoland's online cricket betting guide.
Cricket betting can add to the excitement of enjoying the sport, but make sure to bet responsibly. Lottoland is ready to assist you with any concerns you may have regarding gambling safely.
DON'T SCORE? GET YOUR STAKE BACK!
Once you are ready to start your cricket betting experience, Lottoland is offering a fantastic welcome offer for new sports customers.
When you place your first sports bet with Lottoland, if you don't win, you'll get your money back, giving you a free bet!

All you have to do is opt-in, place a minimum bet of ₹400 and hope for the best. If you win, great! If your first bet doesn't win, you'll get your money back up to ₹400 to use a free bet within 72 hours…HOWZAT?!
---