News & Stories 17 December 2021
Christmas Magic in Macroom
Lottoland Winner in Ireland!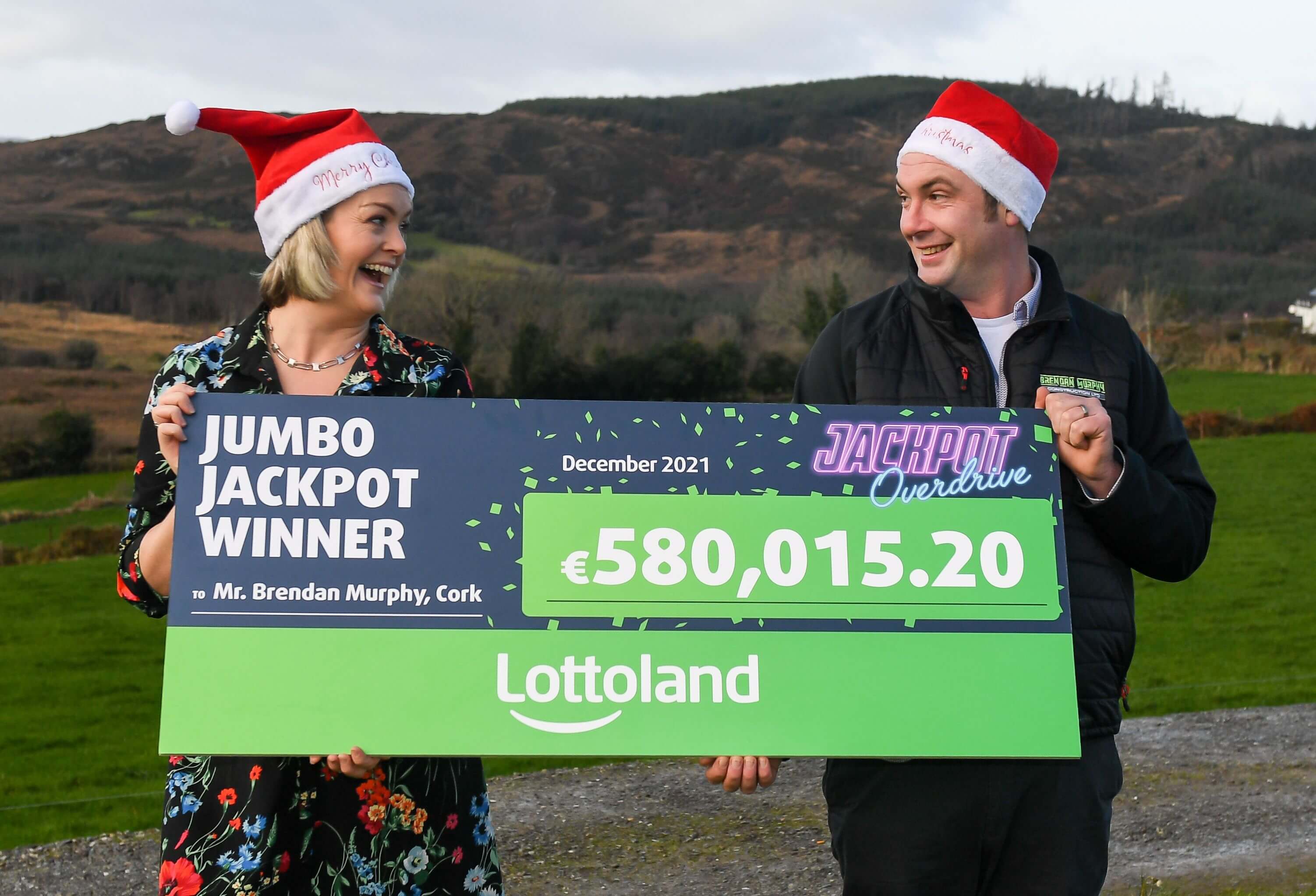 Table of contents:
FROM COVID NIGHTMARE TO CHRISTMAS CHEER
At the time of his win, Mr. Brendan Murphy, a building contractor from Macroom, Co. Cork, had been identified as a close contact of someone who had tested positive for Covid and was thus unable to attend his brother's wedding. His disappointment and bad luck soon turned into joy and fortune as he hit six-figures on the Jackpot Overdrive Jumbo Jackpot whilst playing the popular Gonzo's Quest Megaways slot game.
Brendan did not want to overshadow his brother's big day and decided to keep the news of his win to himself and his wife, Deirdre, until a more appropriate moment to reveal his secret.
WALKING IN A LOTTO WONDERLAND
On being asked about his win, Brendan said; said "It took a bit of a while. When the wheel was spinning, it just landed on the Jumbo Jackpot and I had to kinda look and I said 'Oh my God. Oh my God. Oh my God'. It's still unbelievable, to be honest." The father-of-three has spent the last week celebrating his big win with friends and family.
With regards to their future plans, the Murphy family haven't had much time to think things through yet but Deirdre has expressed her desire to purchase a new vehicle, "I think my wife wants to buy a new Jeep alright! But yeah, we'll just have to have a serious sit down. It's a super amount of money...it's life changing like."
Lottoland's Country Manager for Ireland, Graham Ross, stated; "After the collective frustrations over the last six months of waiting for the current capped Irish Lotto jackpot to drop, we're just delighted for Brendan and his family that he's claimed such a massive jackpot prize, becoming Lottoland's biggest ever winner in Ireland in the process. Not much can make up for missing your younger brother's wedding but winning ₹5 Crores at Christmas time must go pretty close!"
Irish Jackpot winner Brendan Murphy was presented with his cheque by Graham Ross of Lottoland Ireland
END THE YEAR WITH A BANG!
Irish customers of Lottoland have had their fair share of fortune in 2021. An 82 year-old retiree from Swords won €174,649 on the US Powerball in March.

With the festive season now in full swing, the best is yet to come. The draw for the Spanish Christmas lottery 'El Gordo' takes place on Wednesday 22nd December. Offering the world's biggest prize pool, a mind-blowing €2.4 billion, with incredible jackpot odds of only 1 in 100,000 and multiple prize tiers, it's a fantastic opportunity to be in with a chance for some extra Christmas joy. The year is then topped off with the Mega 2022 New Year's Eve jackpot with a massive €100 million up for grabs, now that would certainly be one way to end the year with a bang!
---