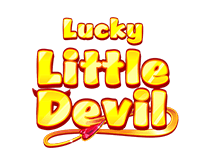 Lucky Little Devil
Start some fires at the gates of hell – it can only be the disarming charms of the Lucky Little Devil slot game
Lucky Little Devil
GAME INFORMATION
Video slot presentation with 5 reels, 3 rows and 10 pay-lines
Any adjacent combination in view pays a straight up cash prize
Little stroke of luck adds devil coin mystery symbols on the reels
Connect mystery symbols with existing symbols for bigger combinations
Raining mystery adds a ton of mystery symbols onto the grid for a single spin
Land the devil's work to fill the whole grid full of mystery symbols
Little helping hand adjusts reels to make winning combinations and activate bonus
Hit 3 scatters anywhere in view to launch the bonus feature round
Start the bonus feature with a random number of free spins
During free spins a 3x3 mystery symbol is added to the reels
RTP and paytable information is stored within the game
HOW TO PLAY - BONUSES
Want to go on a hot streak? Feel a heater coming on? There's a red fiery rush waiting for you on the reels of the awesome Lucky Little Devil slot machine. You can pull up some demonic wins and burning bonuses in the base game with a flick of the reels, then watch as the prizes grow to monstrous proportions in the free spin feature. Find out more about this game's otherworldly delights by simply reading on…
Little Stroke of Luck
Land these little devil coin mystery symbols on the reels and they'll all flip at the same time to reveal matching symbols that can be used to make winning combinations. Connect these symbols with the existing symbols on the grid for the biggest base game prizes.
Raining Mystery
During any base game spin the little devil can bring a ton of mystery symbols into play, covering tons of stops on the reels. These always put a big combination on the reels – all you have to ask is how hot is the prize?
The Devil's Work
With this base game feature the entire grid is covered with mystery symbols These all flip and spin at once to reveal matching symbols giving you the maximum possible prize for your symbol. Hit a premium to earn the most massive money. A feature dripping with potential.
Little Helping Hand
Even when the reels have nothing good on them – the little devil can wave its wand and summon more symbols into play to help you make wins or even activate the bonus feature.
Free Spin Round
Hit 3 scatters anywhere in view on the reels to launch the bonus game. You'll be given a random number of free spins to take on a second set of reels with a special 3x3 mystery symbol in play. Land this, or a part of it, anywhere in view to give yourself an absolute inferno of prizes. What more could you want?
JACKPOT OVERDRIVE
The Jackpot Overdrive is a group of progressive jackpots that increase incrementally each time one of the Jackpot Overdrive slots is played. When one of the progressive jackpots is won, the main prize is reset again to a predetermined value, and resumes increasing as players play one of the Jackpot Overdrive slots.
There are 3 progressive jackpots within the Jackpot Overdrive:
Rapid Jackpot– hits hard and fast
Daily Jackpot– guaranteed to hit before the timer reaches zero
Jumbo Jackpot– for a life-changing win!