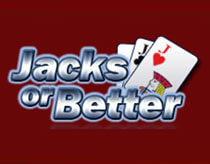 Jacks or Better
It is one of the originals. There's nothing that plays quite like Jacks or Better, the Video Poker machine that caused all the fuss on the Las Vegas Strip all those years ago.
Jacks or Better
GAME INFORMATION
Get ready to play the most classic version of computerised five card draw going – Jacks or Better. This version of Video Poker pays you out prizes for combinations starting off at any pair of painted cards. With the option to gamble your small wins on a game of card flip, this title has all the action.
Online presentation of a classic Video Poker game
Game pays out on hands of pair of jacks or better
5 card Draw Poker with 1 redraw
Hit all the classic Poker hands from Pair to Royal Flush
Gamble any win on the card flip game
Bet on colours for double money or suits for a 4x return
Top jackpot for Royal Flush of 250x
Max Bet jackpot for Royal Flush increased to 800x
Return to player rated at 99.56%
Hit frequency 44.7%
Maximum single jackpot (without gamble) of €40,000
HOW TO PLAY
Jacks or Better allows you to play one hand of 5 card Draw Poker with 1 re-draw.
Use the BET LEVEL button to choose your coin size. Start a game with the largest bet size possible at your current level by hitting the MAX BET button.
The DEAL button starts your game. After the cards have been drawn the HOLD button under each card will retain the respective card in play after the next redraw. To deselect a card simply press the HOLD button again.
When you are happy with the cards you have chosen to hold press the DEAL button for the second deal. After this any combinations are evaluated and wins are paid.
Take any small win you hit on Jacks or Better and risk it on a card flip gamble game by pressing the GAMBLE BUTTON.
Select a COLOUR bet with the dual colour meter or choose a SUIT button to bet on a suit. After a successful round of betting you can bet again or use COLLECT to take your money.
HOW TO PLAY - BONUSES
Expect the following returns on your bets from American Roulette
Poker Hands Pay
| | |
| --- | --- |
| Royal Straight Flush | -250x |
| Straight Flush | -40x |
| Four of a Kind | -20x |
| Full House | -9x |
| Flush | -6x |
| Straight | -5x |
| Three of a Kind | -3x |
| Two Pair | -2x |
| Jacks or Better | -1x |