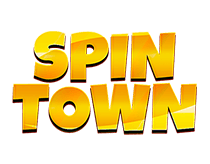 Spin Town
Take a trip to the Spin Town slot machine and you'll be in for a fantastic time with 6 different special wilds…
Spin Town
GAME INFORMATION
Video slot presentation with 5 reels 4 rows and 40 pay-lines
Wilds help make combinations through a substitution mechanics
There are 6 different types of wilds to set you on your winning ways
Moving wilds wait at side of reels and then move when light turn green
Sleepy wilds can stop in place on the reels locking on the grid for a spin
Speedy wild move quickly across the grid helping stagger your wilds
Couple wilds can meet in the middle of the reels and turn into umbrella wilds
Umbrella wilds are 2x multiplier wilds which continue moving on the reels
Stop in 3 rock n roll symbols to activate rolling wilds
Rolling wilds are 4 wilds that can move back and forward across reels up to 10x
Stop in 3 guardsmen symbols to activate guardsmen wilds
Guardsmen wilds are 1x2 mega wilds that move across the reels
Stop in 3 kick off symbols to activate hooligan wilds
Hooligan wilds travel across the grid in large groups giving you big wins
RTP and paytable information is stored within the game
HOW TO PLAY BONUSES
Spin City is a game that will drive you wild with its crazy set up and structure. This is a title that doesn't give you a standard bonus game like a free spin round or a second screener, because there are so many different types of wild you'll go mad with the chances to win, win and win again on this slot machine. Check out everything it's got to offer with the following summary below:
Moving Wild Types
During any spin in the base game moving wild will gather at the edge of the reels, waiting when the lights turn red. When the lights go green these wilds travel across the grid giving you a chance to earn some big wins.
Sometimes sleepy wilds will fall asleep and stay in place as they move giving you even more winning chances. Speedy wilds move across the reels faster than normal types hitting other reels before the standard wild, and if couple wilds meet in the middle of the grid they turn into umbrella 2x wild multiplier and continue on their way.
Rock N Roll Shuffle
Land 3 rock n roll symbols anywhere in view to activate four rocking wilds that can move across the slot up to 10x creating some massive prize paying potential.
Guardsmen Wilds
Land 3 guardsmen symbols anywhere in view to activate 1x2 mega wilds that can cross the reels from either side helping you make some of the game's biggest combinations.
Hooligan Wilds
Stop in 3 kick off symbols anywhere in view to activate the hooligan wilds that can cross the reels from either side. These wilds always travel in big groups helping you hit the winners.
JACKPOT OVERDRIVE
The Jackpot Overdrive is a group of progressive jackpots that increase incrementally each time one of the Jackpot Overdrive slots is played. When one of the progressive jackpots is won, the main prize is reset again to a predetermined value, and resumes increasing as players play one of the Jackpot Overdrive slots.
There are 3 progressive jackpots within the Jackpot Overdrive:
Rapid Jackpot– hits hard and fast
Daily Jackpot– guaranteed to hit before the timer reaches zero
Jumbo Jackpot– for a life-changing win!