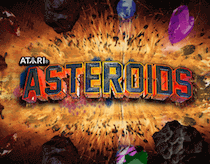 Asteroids
Get ready for a space adventure like no other as you blast your way through a barrage of asteroids with your laser cannons, to reveal the hidden gems inside that could earn you a fortune…
Asteroids
GAME INFORMATION
As you pass by the Asteroid Belt, you need to take aim with your laser cannons and blast the asteroids. Hidden deep inside each asteroid is a valuable gem. The aim of the game is to reveal 3 identical gems. Built with HTML5, this game can be played in any browser including desktop and mobile with no download or software installation required. Key Features of Asteroids Instant Win:
9x Winning Symbols
Autoplay / Autobet
Bet values from 0.50 to 10 per round
Jackpot of 100,000
HOW TO PLAY
Atari® Asteroids is super easy to play; select your bet, shoot the asteroids and reveal 3 hidden gems. If you are fortunate enough to reveal three purple marquise diamonds, then you get to take home a 100,000 jackpot when playing with max bet.
Steps to play:
Select your bet size per round by using the + & - symbols in the "BET" box.
Click / Tap the "Play" button.
You then have the choice to manually shoot the asteroids by placing the aim on each asteroid passing by and shooting them. Alternatively, click / tap the Play button again that will now say "REVEAL ALL" and the laser cannons will instantly shoot 9 asteroids for you.
The revealed gems will fall down onto the control panel and any winning combinations will be shown and how much has been won will be displayed across the screen as well as in the "WIN" box.
The autobet feature is located next to the "PLAY" button and lets you select the number of automatic rounds you would like to play without the need to keep manually selecting the options.
HOW TO PLAY - Special Rules
The 'AUTOBET' feature allows for the game to automatically play by itself based on the number of autobets you select, ranging from 10 to 50 at a time. Choose the number of rounds and then press the Play (triangle) button. Autobets can be paused at any time by hitting the Pause button.
The paytable is visible by selecting the "wine-glass" icon
The icons on the bottom left allow you to expand the screen size to full screen, to adjust the game sounds volume and the '?' reveals detailed gameplay information.