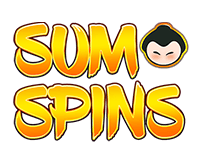 Sumo Spins
Think you're a slot samurai? Put down your sushi and see if you have what it takes for some Sumo Spin
Sumo Spins
GAME INFORMATION
Video slot presentation with 5 reels, 4 rows and 40 pay-lines
Big chunky arcade style graphics dominate this punchy slot machine
Stop in the red rikishi for a nudge to automatically bring in winning combo
Land the blue rikishi for power rolls revealing the same symbols on the reels
Blue rikishi can power roll multiple times to help you bring in big wins
Green rikishi awards you a respin – and can respin multiple times
Stop in multiple rikishi to activate the sumo showdown free spin round
Choose one of the activating rikishi to act as your wild during the bonus
Wild symbols substitute where possible to help you make winning combos
Free spins continue until one of your rikishi wins the fight
RTP and paytable information is stored within the game
HOW TO PLAY BONUSES
Want to mix it up with the big boys? Get ready for some ground and pound on the reels of Sumo Spins. This fresh, fun and fast-paced slot games gives more than a passing nod in the direction of the old school arcade classics that are now coming back in a big way – but there's nothing antiquated about the following features and bonuses on offer:
Nudge Wins
Land the red rikishi on the grid and he will stomp up and down, using his might to nudge the reels into place - giving you a chance to make some automatic wins.
Power Roll
Hit blue rikishi on the reels and this character will power roll across the reels leaving a single symbol type in his wake, giving you the chance to make some big combinations on the way to a guaranteed win. He may even make multiple passes leading to some mega rewards.
Respin
Stop the green rikishi on the reels and he'll jump up in the air to trigger a respin. Multiple respins can be awarded over and over again as you go on a streak to hit the big time rewards.
Sumo Showdown
This free spin bonus round triggers when you land 2 or more rikishi on the reels. Choose one to be your champion, which allows him to act as the wild in the bonus round. With each spin the sumo fight until one of them wins, ending the bonus.
You can even land all 3 rikishi – in which case the green respin rikishi will fight it out with the blue and red rikishi.
JACKPOT OVERDRIVE
The Jackpot Overdrive is a group of progressive jackpots that increase incrementally each time one of the Jackpot Overdrive slots is played. When one of the progressive jackpots is won, the main prize is reset again to a predetermined value, and resumes increasing as players play one of the Jackpot Overdrive slots.
There are 3 progressive jackpots within the Jackpot Overdrive:
Rapid Jackpot– hits hard and fast
Daily Jackpot– guaranteed to hit before the timer reaches zero
Jumbo Jackpot– for a life-changing win!