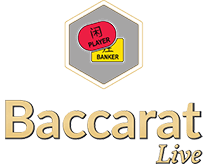 Live Baccarat
Pull up a seat at our Live Baccarat Squeeze table and enjoy this Casino classic today!
Live Baccarat
GAME INFORMATION
The objective in LIVE BACCARAT is to predict whose hand will win by having the value closest to 9.
The game is hosted by a dealer and is played with eight standard 52-card decks. Card values are as follows:
Aces are the lowest cards and are worth 1 point each.
Cards from 2 to 9 are worth their numerical face values.
10s and face cards (jacks, queens and kings) are each worth 0.
Only the numeric value of each card is relevant in the main Baccarat game; Each card's suit (hearts, spades, clubs or diamonds) is irrelevant.
Prior to each deal, you must place your bet on whether the Player or the Banker will win the round by having the hand with a value closest to 9. You also have the option to bet that the round will end in a Tie, which occurs when both the Player and Banker hold hands of equal value.
Squeeze
If you are playing at a Baccarat Squeeze table, the manner in which the dealer reveals cards depends on wagers that have been placed in the round.
The dealer will quickly reveal cards for the hand associated with the lesser total wager and will squeeze cards dealt to the hand associated with the greatest total wagered amount.
How to play
'Bet Limits' displays the minimum and maximum stakes permitted on table in total. The chip display allows you to select the value of your stake. Once you have chosen your stake simply press 'Place Your Bets'.
If the total wager for both hands is equal, the dealer will squeeze all cards dealt to both hands.