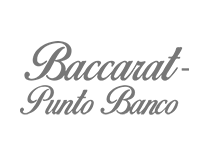 Baccarat - Punto Banco
For that true big money Las Vegas experience – it can only be the old school Punto Banco Baccarat
Baccarat - Punto Banco
GAME INFORMATION
Classic digital presentation of casino game Baccarat
Easy to read grid gives you different layout options to keep records
All the popular roadmap methods are available in this game
Easy to use controls and interface
Options to make new bet, re-bet or double up for rapid play
Use chips to make bets on the clearly marked grid
Get 1:1 for player bet and 0.95:1 for banker bet
Tie bets pay a return of 8:1 for equivalent value hands
Bet on a player or banker pair for 11:1 return on your money
Return to player rated at 99.55%
HOW TO PLAY BONUSES
Baccarat Punto Banco is the classic game for high rollers and big money gambling. If you like the feel of Monte Carlo action in your own front room then this version of the casino favourite more than delivers. Mix up the action against the dealer, make moves and speculate on wild opportunities for ties and player pairs. For more information about this quality take on the game, read on…
Roadmap interface
Keep track of your shoe history with your favoured method of marking the grid. There's 5 different charts available ranging from bead plate, big road, big eye boy, small road and cockroach pig allowing you to view the available information in your favourite format.
Making Bets
You have all the classic options to make standard bets and re-bets on the Baccarat grid. This allows you to access the following wagers:
Player and banker bets – the standard, classic Baccarat bets that return the following:

Player bet returns 1:1
Banker bet returns 0.95:1

Tie bet – for both the dealer and the player to have the same bet returns 8:1 on your money.
Player or dealer pair – bet on either the player or the dealer getting dealt a standard pair of equivalent value cards for an 11:1 return.